Welcome to the first edition of the Friends of Cancer Research (Friends) Quarterly Patient Advocate Newsletter.
Friends is launching this newsletter in collaboration with our Advisory Advocates to provide a resource for staying up to date on Friends' projects, learning about upcoming events and conferences, and understanding emerging science and policy impacting the landscape of cancer care and drug development.
Our newsletter contains the following sections:
We hope this newsletter serves as a continual resource covering topics most important to patient advocates. If there are specific areas you want to hear more about, have questions or comments, or would like to get more involved, we encourage you to fill out our Newsletter Feedback Form or Interest Form.
What's Happening at Friends in 2023?
Supporting Development of Next Generation Cell and Gene Therapies
Public meeting on May 22, 2023 (hybrid)
Cell and gene therapies are designed to treat, prevent, and potentially cure cancer by modifying healthy immune cells to target cancer (cell therapies) or by modifying/introducing genes into specific cells (gene therapies). These therapies are emerging as a new pillar of cancer treatment and are poised to change the cancer therapy landscape.
As these therapies continue to evolve, new approaches to drug development and regulation are necessary to support continued innovation. In 2023, Friends will build on past findings and continue to explore strategies to advance the development of the next generation of cell and gene therapies by leveraging scientific and clinical advancements to inform regulation. Learn more about this work here.
Circulating Tumor DNA (ctDNA) for Measuring Treatment Response (ctMoniTR)
Public meeting on July 11, 2023 (hybrid)
Understanding how a patient's cancer responds to treatment can be challenging due to technological limitations. However, emerging science suggests that circulating tumor DNA (ctDNA) may be useful for diagnosing and tracking a patient's cancer. ctDNA is fragments of DNA shed from cancer cells, found in the bloodstream, and collected using a blood draw for analysis. Watch our ctDNA explainer video.
Friends is establishing evidence to support the use of ctDNA as an indicator of treatment response. Step 1 of the project was published in July of 2022 and the same month we hosted a patient advocate webinar describing the project in a bit more detail available here.
Step 2 of Friends' ctMoniTR project studies the relationship between ctDNA and clinical outcomes across several clinical settings, drug classes, and cancer types. The first set of data from Step 2 analyzes ctDNA in patients with non-small cell lung cancer treated with a tyrosine kinase inhibitor (TKI), a type of targeted therapy, will be presented in June of 2023. Ultimately, these efforts will help provide consensus around how ctDNA can be used to inform treatment decisions, support drug development, and inform regulatory decision-making. Learn more about this work here.
Defining rwEndpoints: Establishing a Framework for Evaluation of Real-world Response
Public meeting on September 11, 2023 (hybrid)
The use of real-world data (RWD) to support oncology drug development and regulatory approvals has increased in recent years. Analyzing RWD is also valuable to evaluate the outcomes of patient populations that may have been underrepresented in clinical trials. However, collecting data on traditional clinical trial endpoints, such as response rate, from RWD sources, such as electronic health records (EHRs), can be challenging due to significant variability across sources including a lack of standardization in the timing and frequency of response assessments.
Building on previous Friends' work to support the use of RWD and real-world evidence (RWE), Friends is working with stakeholders to define a framework for evaluating response using RWD sources (rw-Response). The pilot assesses the consistency of a rw-response measure across data sources in patients with metastatic non-small cell lung cancer treated in the first-line setting with platinum doublet chemotherapy. We will present the results of this work at a public meeting in September 2023. Learn more about this work here.
Emerging topic for 2023: Digital Pathology
Public meeting in Summer 2023 (details to come)
Artificial intelligence and machine learning (AI/ML) algorithms are being incorporated into clinical care to aid diagnostic assessments of digitized (i.e., scanned into a computer) tissue samples. Digital pathology has the potential to support more accurate, reproducible, and standardized assessments that ultimately improve patient care; however, it is important to align metrics and regulatory approaches for ensuring these technologies provide reliable and consistent information. In 2023, Friends is leading a working group that will align on methodologies for the validation of these technologies and identify regulatory needs associated with their use.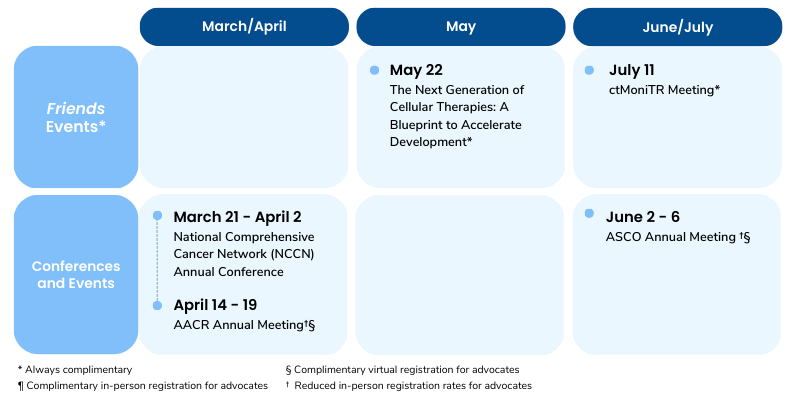 Scientific Articles in the News
Two new FDA Guidance documents related to past and ongoing Friends' work:
Past Events
On March 8th, Friends hosted "The Next Generation of Cell Therapies: Opportunities to Accelerate Development," the first in a series of two meetings this year to discuss regulatory strategies for accelerating development of cell therapies. Read a recap of the event here.
Recent Publications